Malta offers an array of unique venues to choose from. KG Events can suggest the most suitable venues in Malta for your wedding or event based on your requirements, size & budget.
Trust KG Events to source the right place for your event at the right price. We know that planning a wedding or an event in Malta or anywhere can be a daunting and time-consuming process and that choosing the right venue, for example, can require a lot of legwork. KG Events can source a wide selection of venues to match your specific requirements and, because we tailor each event, every venue offers a different experience every time. Our strong professional relationships with the top local venues also assure us of competitive pricing. 
Our venues provide a stunning setting for private events, with their own charm and character adapted to the style of event your desire. We can provide you with options such as prestigious hotels, historic palazzos, exclusive villas, cultural heritage sites, top restaurants, private yachts and several more you may not have known are possible. See some of the best properties in Malta below, although there are many more not listed here (others can be found at knowingmalta.com). If you have ideas of your own, propose them to us and we'll do the needful.
The Waterfall Gardens is a charming and unique venue that is rich in history and beauty. This award-winning attraction features an old stone quarry and a gushing waterfall, an amazing setting that comes alive with fireworks, pyrotechnics and a traditional Maltese folklore troupe.
Hola Beach Club is a marvellous location for a wedding or any special occasion. It features a private beach which is exclusively dedicated to your important occasion and which guarantees stunning photographs and impressed guests.
Haywharf Clubhouse Terrace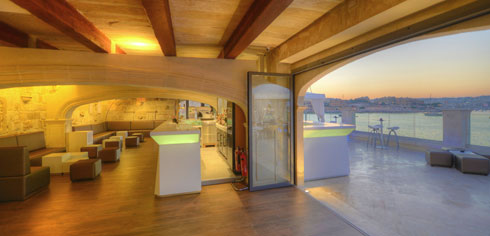 Looking for a charming yet refreshing atmosphere? Haywharf ClubHouse Terrace Lounge is located by the Valletta bastions and offers magnificent views of Valletta Harbour and Manoel Island.
There's something simply wonderful about a Mediterranean garden wedding and tying the knot in the magical setting of Villa Bologna will be all you've ever dreamed of. The sprawling gardens can be decorated and tailored to size and requirements, providing a stunning backdrop with historic architectural touches. Furthermore, a backup indoor option ensures peace of mind.
Villa Mdina is a 400-year-old farmhouse in Naxxar which has been thoughtfully converted into an elegant wedding venue. It retains the original features and these have been combined with a lavish interior decor and state-of-the-art lighting. It is the ideal setting for a couple wishing to enjoy the best of both worlds.
Successfully combining old-world elegance with modern chic, The Phoenicia hotel offers a diverse range of venues, gardens and amenities for occasions of all sizes.  From the luxurious Grand Ballroom to the picturesque Bastion Pool, the character, individuality and flexibility at The Phoenicia will ensure your Mediterranean wedding is one to remember.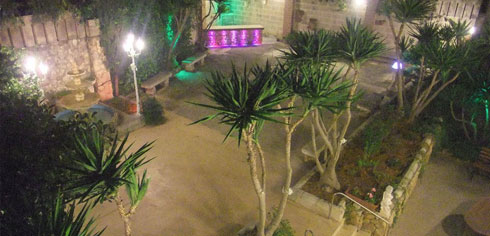 On the country road which leads from Rabat to Buskett, one cannot but notice Villa Maria. This marvellous villa has been converted into a comfortable yet luxurious venue for weddings and any type of event.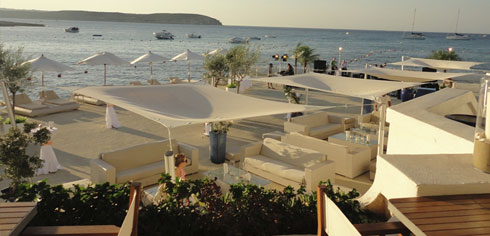 If you're looking for a laid-back vibe with 5-star service, the stylish, chic and seriously cool Baia Beach Club may be your thing. Baia Beach Club offers a jaw-dropping backdrop consisting of the clear blue waters at Armier and stunning views of Comino and Gozo.
A wedding at The Xara Lodge means a perfect day without any of the stress. A beautiful historic venue and well-informed and experienced staff ensure perfect attention to detail. 
Veranda is a state-of-the-art venue that is centrally located and offers its own parking area and valet and chauffeur service. It can comfortably cater to medium and small events. Veranda is a unique combination of accessibility, functionality and hospitality.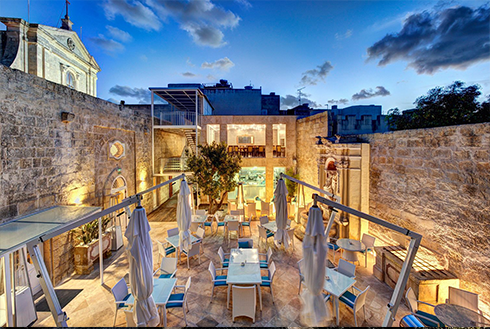 Palazzo Castelletti caters for both stand up and sit down weddings in Malta. If your wedding is set to be an intimate gathering or a big celebration, there is the perfect setting for you. Palazzo Castelletti also offers other wedding services, such as the catering.
Gardjola Gardens in Senglea's bastions offer spectacular views of the Grand Harbour, Marsa, Valletta and Fort St. Angelo, a truly spectacular setting for tying the knot. The gardens were planned by Grandmaster De La Sengle in 1551. A guard tower built atop the bastions is known as 'Il-gardjola' and this bears the sculpted symbols of the eye, the ear and the crane bird, representing guardianship of the Maltese shores.
Kempinski Hotel San Lawrenz
Kempinski Hotel San Lawrenz in Gozo, Malta's idyllic sister island, is a 5‐star hideaway resort with luxury service, comfort and style. The wedding reception may be a small intimate dinner or a grand banquet yet all will be spoiled for choice of indoor and al-fresco venues. To celebrate your wedding, enter your very own bubble and enjoy a touch of magic.
Eden Lodge events are characterised with the sophistication and class that ooze from this magical venue. You will want to sip cocktails forever while basking in the beautifully landscaped gardens and breathtaking views of the sea, valley and nearby villages.
Chateau Buskett lies in the heart of a centuries-old forest. Through the lush greenery, the romantic and majestic Verdala Palace stands tall. Chateau Buskett, with its stunning views, unique architecture and tranquillity, is a wonderful venue for any event.
The Ramla Bay Resort, an oasis of tranquility and natural beauty, is one of the most stunning wedding locations on the Maltese Islands. The setting at Ramla Bay resort offers a picture-perfect Mediterranean wedding with blue sea and green, lush, landscaped gardens, including palm trees and gazebos that instantly conjure an atmosphere of romance and passion.
The true beauty of Palazzo Parisio shines as a setting for a fairytale wedding. A wedding in the exquisite gilded ballroom or the classic baroque gardens of one of Malta's finest palaces is set to be a memorable one for sure.
Villa Arrigo is more than just a wedding venue - all the details of your event can be tailored to your requirements or offered in an all-inclusive package. In any case, from the quality of the food to the excellent service, exquisite attention to detail is guaranteed and only expert hands, heart and creativity are put into making your event special.
Montekristo Estate includes various indoor or outdoor venues for your wedding, no matter how intimate or glamorous it may be. The versatility of Montekristo Estate offers infinite possibilities for creativity for that unique wedding celebration.
Giardini Lambrosa is a modern venue situated on the outskirts of the historic city of Mdina. Set in the open countryside under the Mdina skyline, the venue includes a spacious outdoor area that is a natural extension to the interior, making it an ideal year-round venue. It is specially designed with modern facilities and controlled ambience to exude the right mood and comfort within a sense of luxury and sophistication.